Monday, June 28, 2004
Big Fish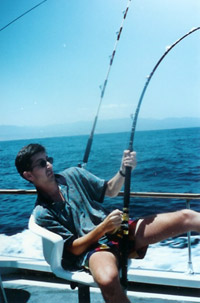 From our trip to Cabo San Lucas in 1994.
Members:
Login | Register | Member List
About
We have created this site to celebrate the life of John Pilafidis, our beloved friend, brother, and son. We hope that this site will allow all of John's family, friends, and loved ones to share memories and photos. He is loved by so many and we miss him dearly.
How To Contribute
We encourage all contributions!! To begin, you will need to register for an account. Once you have an account, you will need to go to the control panel to create stories or upload photos. For detailed instructions, click here.
Categories
Monthly Archives
Most recent entries